Kress High Stackers
higher productivity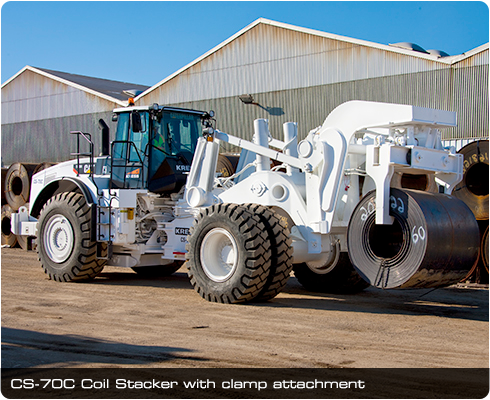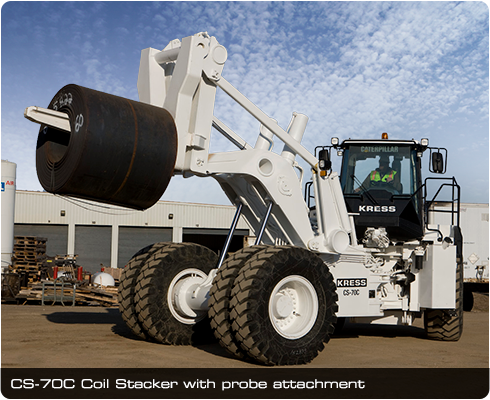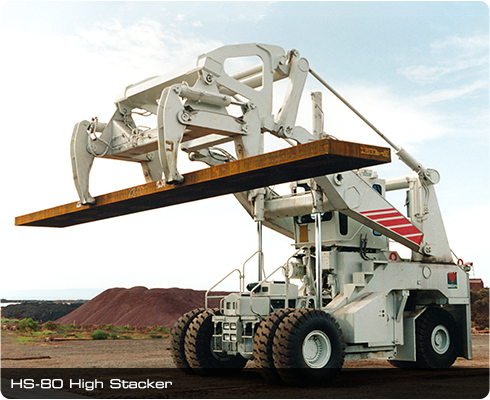 CONTACT KRESS FOR MORE INFO ON KRESS DiVERSIFIED PRODUCTS
309-446-3395
Kress
High Stackers
Kress "HS" series coil stackers are custom designed high capacity transport vehicles capable of handling product up to 35 short tons (32 metric tons). With certain attachments payload capacities of 45 short tons (40.8 metric tons) can be achieved. Narrow overall width and articulated steering allow exceptional maneuverability and access into confined areas.

Each "HS" Series High Stacker is designed for continuous operation in harsh environments, using standard Kress and Caterpillar® components. A specialized design can be engineered to suit your application with Kress Corporation parts and service support.
High Stacker tool options can be changed out in 90 seconds allowing for minimal interruption of work.
Attachment Options;
Coil Probe Attachment - Allows the coil to be picked up with eye parallel to machine centerline
Coil Grab (Non-Rotating) Attachment- Allows the coil to be grabbed with eye perpendicular to machine centerline.
Coil Grab (Rotating) Attachment- Allows coil to be grabbed with the eye either parallel or perpendicular to the machine centerline and has the ability to rotate 90 degrees to the opposite position. This is beneficial in loading trucks or rail cars in certain applications. This option also allows for greater job site flexibility because coil rotation would typically be performed inside with cranes.
Slab Tong Attachment- This is ideal for loading rail cars or highway trucks. Also completes a full slab management system with the use of a Kress Straddle or Slab Carrier. Tong openings vary based on site slab size.
Forklift Tines Attachment- This is a standard forklift attachment that has hydraulic side shift capability to position forks where needed.
Magnet Attachment- This tool is very useful in efficiently moving steel components (i.e. slabs, scrap) within the plant.